METAMORPHIC SPIRITS
Which animals have we replaced; which animals are hidden inside of us? Together with a NY based artist, Becky Yee, Oyama sought to display apparitions of the Berliners' inner animals on a public media facade.

"Bird of Paradise. I am looking for my paradise." – Participant

To begin this artwork, Oyama interviewed 31 Berliners ranging in age from 6 – 86 and asked questions about which animal that they believe that are hidden inside them and give them energy. Afterwards, Oyama sketched their animals and created masks. Yee choreographed and photographed the interviewees who re-enacted essential movements of their animals. Consequently, we produced 31 stop motion video clips and projected them on the GASOMETER Screen, a 700 square meter multimedia screen at night.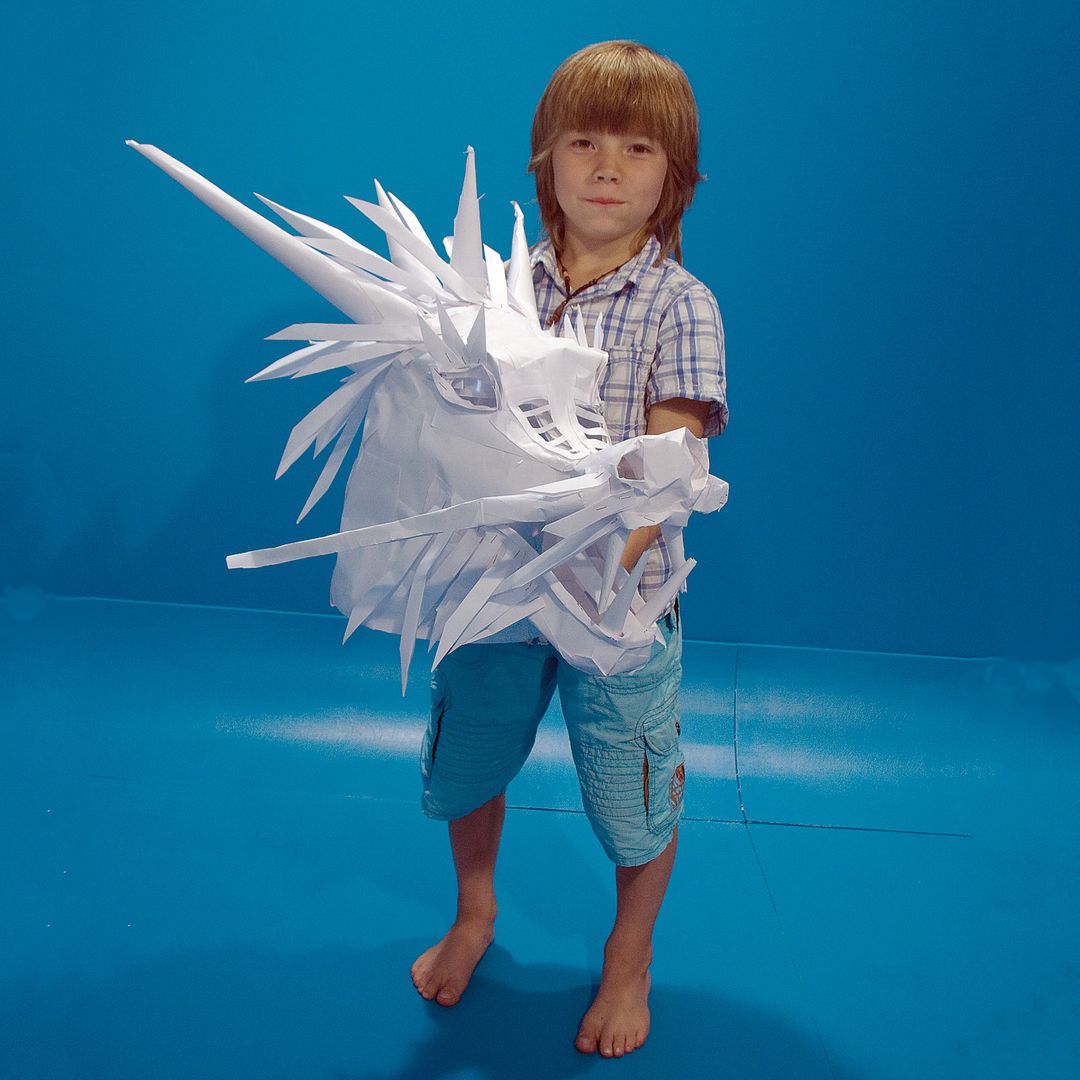 ANIMAL STORY ARCHIVE 01 DRAGON
"I am born in the year of Dragon."
ANIMAL STORY ARCHIVE 02 WOLF

"Teeth growing in all directions, and the tongue hanging out. I have read that wolves are very social. If a wolf is sick or injured, he will not die of hunger. His fellow wolves will always bring food for him. They support each other. There is a person who I want to protect. I want to be an aggressive looking wolf, which scares and repels all the bad beings and doings. I am also very tough. I have clear goals and I stick to them, it doesn't matter how hard they are. I never give up."
ANIMAL STORY ARCHIVE 03 HARE
"Peaceful and friendly. I am a born hare. My name is Haase (hare in German)."
OBJECT STORY ARCHIVE 05 JAGUAR
"I am not a strong person, so I need a strong animal like a jaguar inside of me to deal with my outside world. I want my jaguar to look decisive and strong."
ANIMAL STORY ARCHIVE 06 KOALA BEAR
"Quiet, cozy, and cuddling. I always have to come down. Lying on a sofa."
OBJECT STORY ARCHIVE 07 BIRD OF PARADISE
"I am looking for my paradise."
OBJECT STORY ARCHIVE 08 CAT

"My fear of dogs has eventually lead me to completely retreat from my religion and my friendships with faith brothers. Consequently, it made me a complete loner like a cat—all this was caused by dogs."
OBJECT STORY ARCHIVE 09 MIXTURE OF PIG, PEACOCK, AND SKUNK.

"Pig: I am dirty. I like to talk about dirty stuff. I don't clean up. Pigs are tough and rough. They search on the ground for food and don't care. Pigs sleep in their own shit. They are really punk. I am punk like pigs.
Peacock: Showing off their feathers. I like to wear colourful and nice clothes. They look feminine, but are very masculine.
Skunk: They are cute and funny, but they stink."
METAMORPHIC SPIRITS, 2008
COMISSIONED BY: Media Facades Festival Europe
SPONSORS: Wall AG, Gravis Computervertriebsgesellschaft mbH
SCREENING: BERLIN, Nightscreen GASOMETER, Collegium Hungaricum Berlin; BRÜSSEL, Flagey Screen, iMAL Facade; BUDAPEST, Palast der Künste, KIBU Figs Facade, Lánchíd 19 Design Hotel; HELSINKI, Stadtmauer / Lasipalatsi Platz, Gallerie Alkovi, Stadt-Tourismusbüro; LINZ, Ars Electronica, Tabakfabrik; LIVERPOOL, FACT Facades; BBC Big Screen; MADRID, Medialab-Prado Facade
EXHIBITIONS: Derridas Katze, Kunstraum Kreuzberg, Berlin, After Wearing: A History of Gestures, Actions, and Jewelry, Pratt Manhattan Gallery, NYCPHOTOGRAPHERS: Thomas Bruns, Helmut Lutsch, Yuka Oyama, Erin Tin A Ton, Becky Yee
ASSISTANTS: Jenny Johansenn, Nico Stich, Erin Tin A Ton