HELPERS CHANGING HOMES
HELPERS CHANGING HOMES is a project that investigates the multifarious definitions of homes and how objects help to make a place a home, especially for those whose lives are nomadic or frequently uprooted.
"You are always getting ready. It is just what it feels like, when you are moving all the time, isn't it?" – Participant

"What makes a place your home? How do you conceptualise this, if home is constantly changing? How do you fill the void of a home you have moved away from?"
In average a person in the United States moves 11.7 times in a life time.[1] Some people move much more frequently and have several homes at a time. People who lead nomadic lives appear to have little attachments to materials and people. Yuka Oyama belongs to this group as someone who herself has multiple simultaneous places of home. From experience, she has discovered that a transitional lifestyle demands stable points and alternative forms of home in order to cope with constantly changing surroundings. What becomes home, and how the notion of home is constructed, is then individual.
From 2012 until 2016 Oyama commuted between Berlin and Oslo. She says of this time
"One day I did an inventory of my suitcase. There were multiple functional digital gadgets like my laptop, smartphone, which allowed me to continue my work and communication. In addition, ATM and credit cards, my passport, keys, lipsticks, a water bottle, glasses, running shoes and toiletries were necessary items. Then I realised that some objects were there to maintain my emotional health. They were a Teddy bear that my son gave me, family pictures, a fountain pen, sketchbooks, a special necklace and a ring given by friends.
The significance of the last group of objects would only make sense to me. Interestingly, these items described much about myself as a person. These items are reminders of very special people as well as tools that allow me to conduct activities that make me feel grounded. In some ways, they helped glue together the patches of multiple homes."
During her artist residency in Wellington, New Zealand, Oyama sought to portray individual views upon how a handful of portable personal objects help people to make a sense of home. After conducting interviews, she created a portrait of each person as a shelter resembling their objects made out of cardboard boxes. In the next step, she sought to commemorate the experiences of her interviewees in a symbolic way. She orchestrated a filmed performance, where they enacted movements of a hermit crab, a creature who regularly swaps its shell–or home—for a new one in order to grow. As documentation, she scanned the sculptural objects as well as the interviewees' bodies and made pendants that represented their personal homes.
—–
[1] "Using 2007 ACS data, it is estimated that a person in the United States can expect to move 11.7 times in their lifetime (…) per single year." "Calculating Migration Expectancy Using ACS Data," United States Census Bureau, accessed August 14, 2019, https://www.census.gov/topics/population/migration/guidance/calculating-migration-expectancy.html
OBJECT STORY ARCHIVE 01 MOTORBIKE
"For me, the Royal Enfield Bullet I ride, is the sound, heart, heartbeat and soul of India. I go into a Zen-like state when I ride it. It takes me home in a way no other ride possibly can. Home is not only a place. It is a time and a place with a delightful mix of sights, sound, tastes, and smells. And a sleep so deep, and dreams within."
OBJECT STORY ARCHIVE 02 TURTLES
"I have lived in Auckland, NZ; Port Vila, Vanuatu; Invercargill, NZ; Alice Springs, Australia; Amsterdam, Holland; Greece, Christ Church, NZ; Wellington, NZ. Last year, I was house-sitting, staying in 12 houses in 7 months. These turtles were given to me by my elementary school teacher before leaving Vanuatu at the age of 8. She was an adult who really cared about me. She said, 'You will be a very smart woman, when you grow up.' The turtles represent that someone really cares about you and looks after you."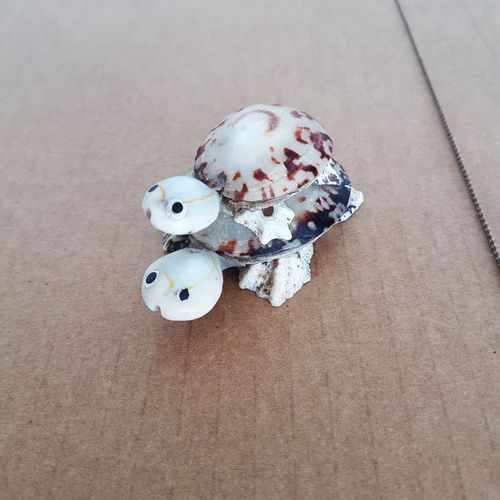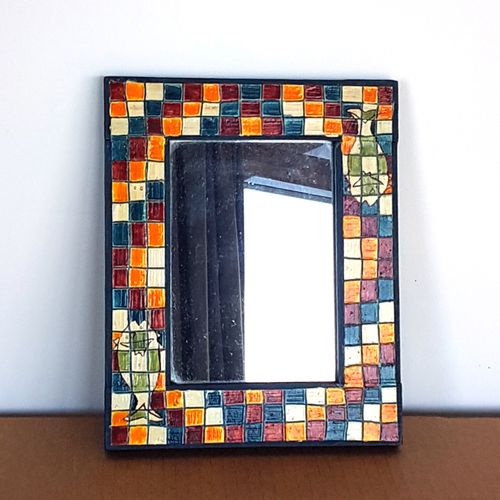 OBJECT STORY ARCHIVE 03 CAT MIRROR
"My home is Chateau Nai Nai. It is 90 square meters, the house where I live with my son, my husband, and a cat.
I brought this mirror in Tunisia, when I was 17. The mirror is small enough to carry everywhere. In NZ you cannot put things on walls unless you own the house. You can lean this mirror on the wall. So, it is easy to personalize any room with this mirror, and it contains memories of the modern side of Tunisia, where I grew up."
OBJECT STORY ARCHIVE 04 COLORING PENCILS
"I have lived in Brisbane, Sydney, Jakarta, Cairo, Singapore, Dunedin, Aotearoa, Melbourne, and Wellington. This is a set of colouring pencils. I have used some of them, but I have not used most of them since I was a kid. Something about it that I like is that it is so contained. Everything has its own place. The person who gave me the colouring pencils told me to keep yourself contained, which means to be self-sufficient."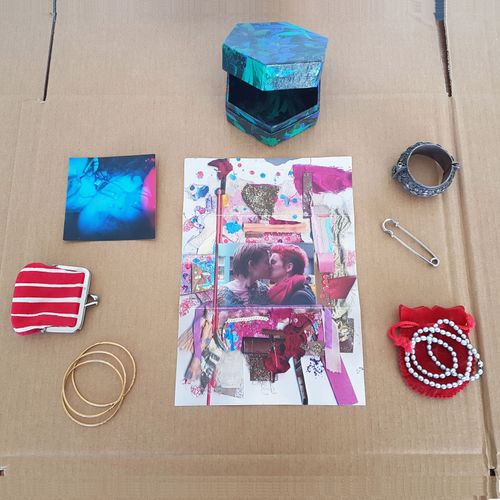 OBJECT STORY ARCHIVE 05 ARTWORKS THAT I HAVE MADE
"The sound of packing tape, ripping, that's the sound of home. Every time when we settled down, a conversation between my husband and I started to happen: How is it going? Are we moving soon? Where do you think we will move next? At some point I have started to embody my home in my own body. Artworks that I have made represent my home."
OBJECT STORY ARCHIVE 06 HACHIMAKI (JAPANESE HELMET SCARF)
"I like keeping things that remind me why I am the way I am today. This is Hachimaki, a Japanese helmet scarf. I brought it with me to the Kaho'olawe Island, the trip that taught me that life can regrow. For the first time in my life, I felt accepted as a Hawaiian. I enjoyed my presence and felt strong. Home is the place where I feel love without fear."
OBJECT STORY ARCHIVE 07 PILLOW

"The bedroom is the first room where I start setting up, everytime I move. And the first object I unpack is always my pillow. When I travel, I always bring my own pillow. It does not have to be this exact pillow. I buy new pillows every now and then, but it has to be 'my pillow.'"
OBJECT STORY ARCHIVE 08 CLOCKS
"The sound of a clock ticking connects many fragmented homes that I have lived. I travel to many places for my work. Does not matter where I am, clocks tick at a constant speed. It gives me an illusion that I am always in the same space. And I think that while moving around. That transient style forces you to be grounded in yourself in a way that you are in your own culture. I feel so much stronger for knowing that I can exist anywhere. And I can be at home anywhere. I know the feeling of being me, even in a place where I am profoundly alienated."
OBJECT STORY ARCHIVE 07 GAME PINS

"I was working as a game maker organising Olympic Games and World Cups. These pins have a huge sentimental value to me. Two of these are from the Vancouver Games. The third is from the Rugby World Cup in New Zealand, and this one represents my country of New Zealand as well as the relationship I had with my home and my country's team. It also represents the relationship that I had with my home, my team, my country team.
You can't really buy these badges. They are given by the athletes as a token of appreciation and friendship to people who meant a lot to them during the games."
OBJECT STORY ARCHIVE 06 MUM'S WALLET

"I was born in Busan, Korea. One day my brother brought me a cassette tape of Backstreet Boys to study English. This was when my obsession for American Pop music started. The place where I ended up through a student program in the US was Belford, South Dakota. I was 15. It was nothing I had imagined. My idea of America was New York City.
Objects that I have carried around with me mean more than the place. This is mum's wallet, who had passed away. This represents her. A lot of love is inside it. It has an A-Ha concert ticket, a two-dollar bill, and pictures of my family and friends. I carry this wallet everywhere.
The place where I would call 'home' is the space and time where I lived with my mum, dad, and brother back in Korea. Home exists in a combination of people in my memory now. I keep myself in my body; it is my temple."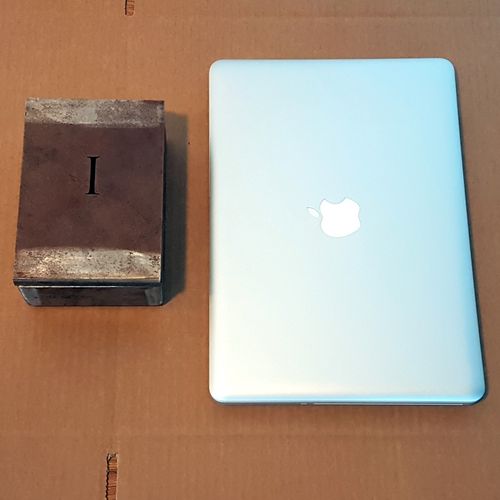 OBJECT STORY ARCHIVE 07 METAL BOX
"My adoptive father was in the army, so we moved every two years: to Christ Church; Gisborne; Singapore; West Coast, New Zealand; South Island, New Zealand; Auckland, and back to Christ Church. I also went on a backpack trip to Australia, Nepal, Thailand, Germany, Brighton in England, Egypt, USA, Japan, and back to New Zealand. Then, I met somebody special in Wellington in 2013.
I have less attachment to objects, and more attachment to the stories. Objects mean some kind of home to me. My knowledge is patched together, so I make things up using objects.
Many of my artworks were lost in the earthquake. Only my laptop carries all the images of my artworks from 2000 until now. Its function is storage, which makes it a home. So, my laptop is my home."
HELPERS CHANGING HOMES, 2018
Video 7 Mins., 7 sculptures, 7 pendants
MOTORBIKE (2018)
Sculpture: 320 x 150 x 150 cm. Cardboard, bamboo
Jewellery: 8 x 8 x 12 cm. Plastic.
TURTLES (2018)
Sculpture: 210 x 210 x 200cm. Cardboard, bamboo, textile
Jewellery: 8 x 3.5 x 6.5 cm. Plastic.
HELMET (2018)
Sculpture: 210 x 130 x 140 cm. Cardboard, bamboo, textile
Jewellery: 7 x 6 x 5 cm. Plastic.
COLOURING PENCILS (2018)
Sculpture: 122 x 140 x 168 cm. Cardboard, bamboo, textile
Jewellery: 6 x 7.5 x 6. Plastic.
CAT MIRROR (2018)
Sculpture: 170 x 235 x 155 cm. Cardboard, bamboo
Jewellery: 7.5 x 4 x 4.5 cm. Plastic.
MOVING BOXES (2018)
Sculpture: 120 x 110 x 110 cm. Cardboard.
Jewellery: 7.5 x 4.5 x 5 cm. Plastic.
PILLOW (2018)
Sculpture: 140 x 100 x 53 cm. Cardboard.
Jewellery: 7.5 X 2 X 6.5 cm. Plastic.
BACKGROUND:
The School of Creative Arts at the Massey University, Wellington, New Zealand, provided me a residence, Artist Residency Te Whare Hera (October 2017 – February, 2018) and integrated my artwork as a part of their educational curriculum to BA students. This artwork was exhibited at the "Language of Things" at The Dowse Art Museum in 2018. The curator was Sian van Dyk.
EXHIBITION:
Language of Things: Meaning and Value in Contemporary Jewellery, The Dowse Art Museum, Wellington, New Zealand
CREDITS:
PRODUCER: Spring Rees
PRODUCTION MANAGER: Linda Lee
DIRECTOR OF PHOTOGRAPHY: Waka Attewell
SECOND CAMERA: Andreas Mahn
THIRD CAMERA / CAMERA ASSISTANT: Angus Stuart
EDITOR: Maja Tennstedt
SOUND: Niclas Widfeldt
FILM POST PRODUCTION: Florian Lampersberger
SOUND POST PRODUCTION: Jana Irmert
STILL PHOTOGRAPHY: Alex Efimoff
EQUIPMENT / LIGHTING: Michael Bridgman
1st AD: Maggie Webster Shadbolt
2nd AD: Harry Wynn
3rd AD: Jack Bloomfeild
CHOREOGRAPHER: Lucy Margaux Marinkovich
ACTORS: Walter Kawika Aipa, Lucien Johnson, Alex Kondou , Luca Larkin , Adrienne Clare Millwood, Louie Neale, Mathias Molly Catherine Piddington, Sunit Prakash, Vanessa Stephen, Louisa Steven, Chloe Rose Taylor
MUSIC: Wachi Daiko
MUSICIANS: Narukami Taiko, Jessie Gibbs, Mick Bates, Eric Benett, Logan Bunning
Jeannie Fletcher, Jei Hui, Keisuke Tanaka
NARRATORS: Megane Archer, Ben Hughs, Agnes Widfeldt
SCULPTORS ON SET: Amber Clause, Bena Jackson, Briget Nawalowalo
SCULPTORS: Amber Clausner, Harris Clook, Max Fleury, Brad Heappey, Bena Jackson, Cassie Lopez, Aria McInnes, Lily McRae, Louie Neale, Samuel O'Malley, Amrita Singh, Vanessa Stephen, Danni Terrizzi, Illish Thomas
3D DIGITAL TECHNICIANS: McCrostie Caillan, Joel Floris
WITH SPECIAL THANKS TO:
Vivienne Atkinson, Dr. Sondra Bacharach, Herbert Bartley, Frederique Bertrand, James Coyle, Tom Dale, Karl Fritsch, Alexandra Grace, Clive Green, Grant Harding, Kana Harding, Paul Harding, Claire Harris, David Howard, Courtney Johnson, Sharon Lam, Tim Larkin, Neke Moa, Jason Muir, Gerda Nana, Brigid O'Conor, Eddie Partsch, Karl Partsch, Lauren Redican, Axel Ruoff, Jojiro Ruoff, Jens Schwarz, Ann Shelton, Huhana Smith PhD, Petra Stüben, Sian van Dyk, Lisa Walker, Jane Wilcox
SPONSORS:
Asia Pacific Art Foundations, Goethe Institute, Allied Pickfords, Wellington City Council, Hell's Pizza