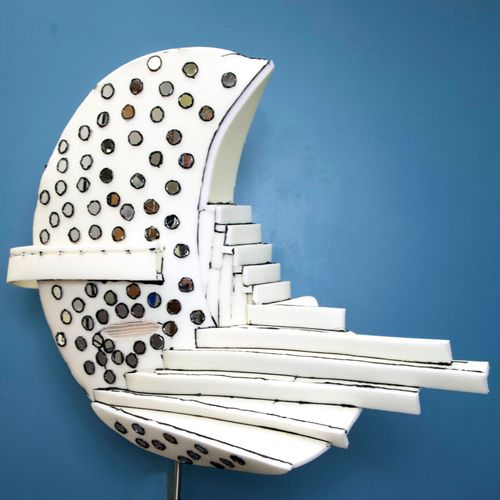 OBJECT STORY ARCHIVE 01 MOON SHELVES

Moon-shaped shelves have steps on which small figurines, like angels, can be placed. They are also known as 'Stairways to Heaven'. They were popular between the 1930s and 1950s and were made in woodwork classes, as exercises for learning how to cut zigzags and curves.
The collector of moon shelves (M) owns about 200 such objects, and approximately 100 of these hang in her living room. To M, moon shelves are metaphors of things such as spiritual journeys and longing. The steps are elevations; they move upwards and reach beyond the moon.
OBJECT STORY ARCHIVE 02 CARROT PRODUCTS
The collector of carrot products (C) is known as 'the carrot man' in his local community. He has dedicated an entire room in his apartment to his collection. This ranges from packaging, magazines, cooking recipes, toys, ceramic figures, textiles, clothing, electronic gadgets and handcrafted gifts from his friends.
His rule for collecting is that CARROTS should be the dominant aspect, and no other things such as BUNNIES.
OBJECT STORY ARCHIVE 03 ARTWORKS FROM NORTHEAST OHIO FROM 1910-1920The collector of artworks made in northeast Ohio between 1910 and 1920 (A) describes his practice as collecting 'art from the teens.' This period, he explains, was the heyday of Ohio and its art, when John D. Rockefeller, the founder of the Standard Oil Company, and other industrial giants were patrons of local artists.
Activities like eating and going out, travelling or going on holiday are of no value to him. His art collection gives him pleasure and he can enjoy the items every day.
OBJECT STORY ARCHIVE 04 TEAPOTS
"I am searching for things that are beyond 'good'."
The collector of teapots (T) has been collecting for twenty years. Most of her teapots were found locally, except for a few she bought on holidays abroad. She is interested in the playful ways in which ceramic artists exaggerate elements of teapots, such as the body, handle, spout, and lid. The aesthetics and the ideas about teapots are more important for T than their function. Teapots should be enjoyable to look at, not for using.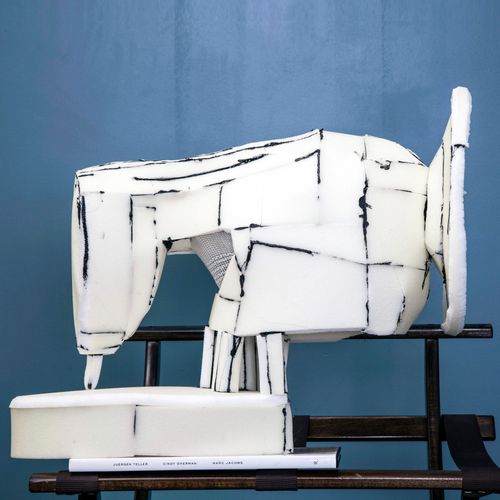 OBJECT STORY ARCHIVE 05 SEWING MACHINES
The collector of sewing machines (S) is an engineer who repairs analogue and highly digitized electric sewing machines.
In the 1970s and 1980s, there were over 10,000 people who worked at sewing companies in Ohio. Then the USA introduced free trade with Mexico and China, which resulted in the collapse of the textile industry in the Midwest. S could not bear to see the abandoned sewing machines from these liquidated factories left to stand outdoors and so he gathered them together and took them home. This resulted in a loft full of sewing machines.
OBJECT STORY ARCHIVE 06 TYPEWRITERS
The collector of typewriters (TW) is a writer who produces all his manuscripts on typewriters. He carries one around in the same way others carry laptops, taking them to cafés, even though people complain that his typing is loud. Writing with typewriters enables him to write from the heart rather than the mind. Finishing typing a page and pulling out the paper is like setting a casual deadline.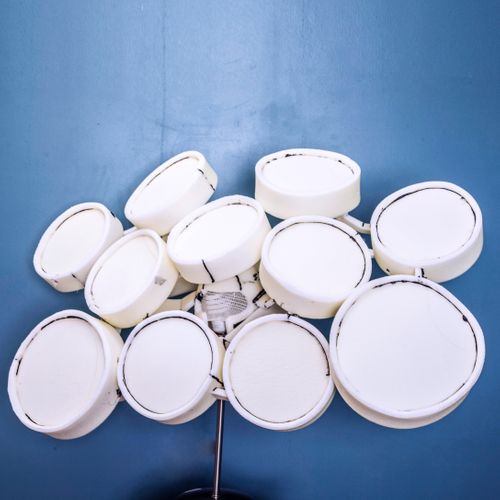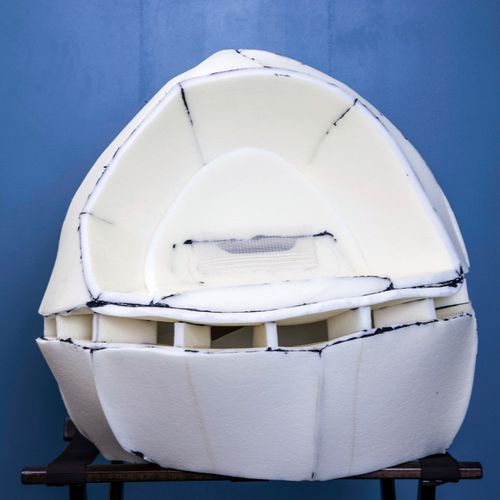 OBJECT STORY ARCHIVE 07 SPACE-AGE FURNITURE
The collector of Space-Age furniture (SA) had always fancied surrounding herself with futuristic objects. She discovered Space-Age furnishings when her parents took her to a furniture store, where she fell in love with a curious Space Age Ball Chair that was ball-shaped and had a built-in stereo sound system. This and other objects with organic shapes, bright colours and alien-like appearance made her feel like she was living on another planet. Her collection represents an attempt to create another world that thinks more openly and accepts what it is.